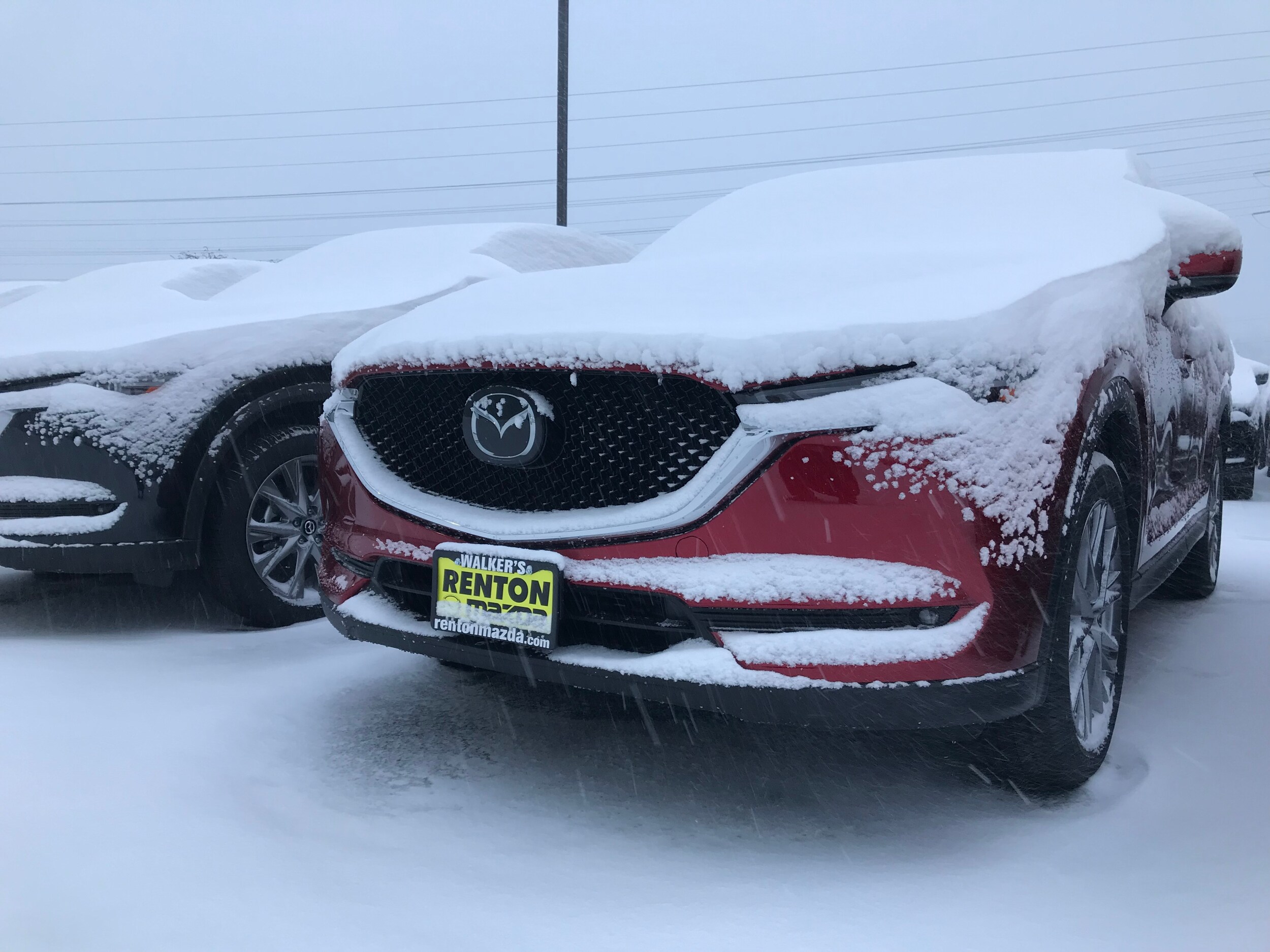 With the recent snow storm that hit the Pacific Northwest, you've probably considered the importance of All-wheel drive. Here at Walker's Renton Mazda, we are experts on Mazda's i-ACTIV AWD.
Whether you are on i5 on a dark and rainy night or driving up a snowy Snoqualmie pass, Mazda's new-generation all-wheel-drive system is designed to provide safety and comfort with fuel efficiency. Mazda's engineers completely redesigned the system's hardware and software, and by taking a proactive approach to controlling drive to all four wheels, have developed i-ACTIV AWD, a fully-autonomous AWD system that combines excellent all-road ability with outstanding fuel economy.
What has been needed is an AWD system that is truly predictive – one that measures more than just wheel speed and engine power to decide where to apply torque. That's what Mazda engineers did when they developed the i-ACTIV AWD system. By monitoring 27 different sensors over 200 times per second, i-ACTIV AWD considers not only wheel speed and engine dynamics, but g-forces, driver inputs to the braking and steering systems, outside temperature and even windshield wiper activity.
Predictive i-ACTIV Explained
| | |
| --- | --- |
| | i-ACTIV AWD is constantly monitoring road conditions in real-time and watching for tiny variations in wheel speed that a driver would never notice. Proactively controlling the distribution of torque, which can range from full front-drive through to full 4-wheel-drive, the system not only provides solid and predictable handling for all-road performance, it makes driving on poor road surfaces more efficient by all but eliminating wasteful tire-slippage. |
| | |
| --- | --- |
| Using a wide range of sensors to paint a highly accurate picture of the overall driving scene, including road conditions and the driver's intentions, i-ACTIV continuously calculates and adjusts the amount of torque sent to the rear wheels. This enables secure take-off, acceleration, cornering and braking, without letting the tires slip in any direction—forward, backwards or sideways. The system minimizes torque sent to the rear wheels when on dry road surfaces with good traction. | |
Want to experience Mazda's innovative I-ACTIV All-wheel Drive? Walker's Renton Mazda has you covered if you are in the Seattle, Bellevue, Renton, Auburn or Tacoma area. Give us a call or
contact us
and one of our Mazda experts will take you out to experience the amazing handling of Mazda's Innovative I-ACTIV All-wheel Drive!
Sources:
http://www.mazda.com/en/innovation/technology/safety/active_safety/i-activawd/
https://insidemazda.mazdausa.com/the-mazda-way/cars-for-drivers/a-closer-look-at-drive-systems/