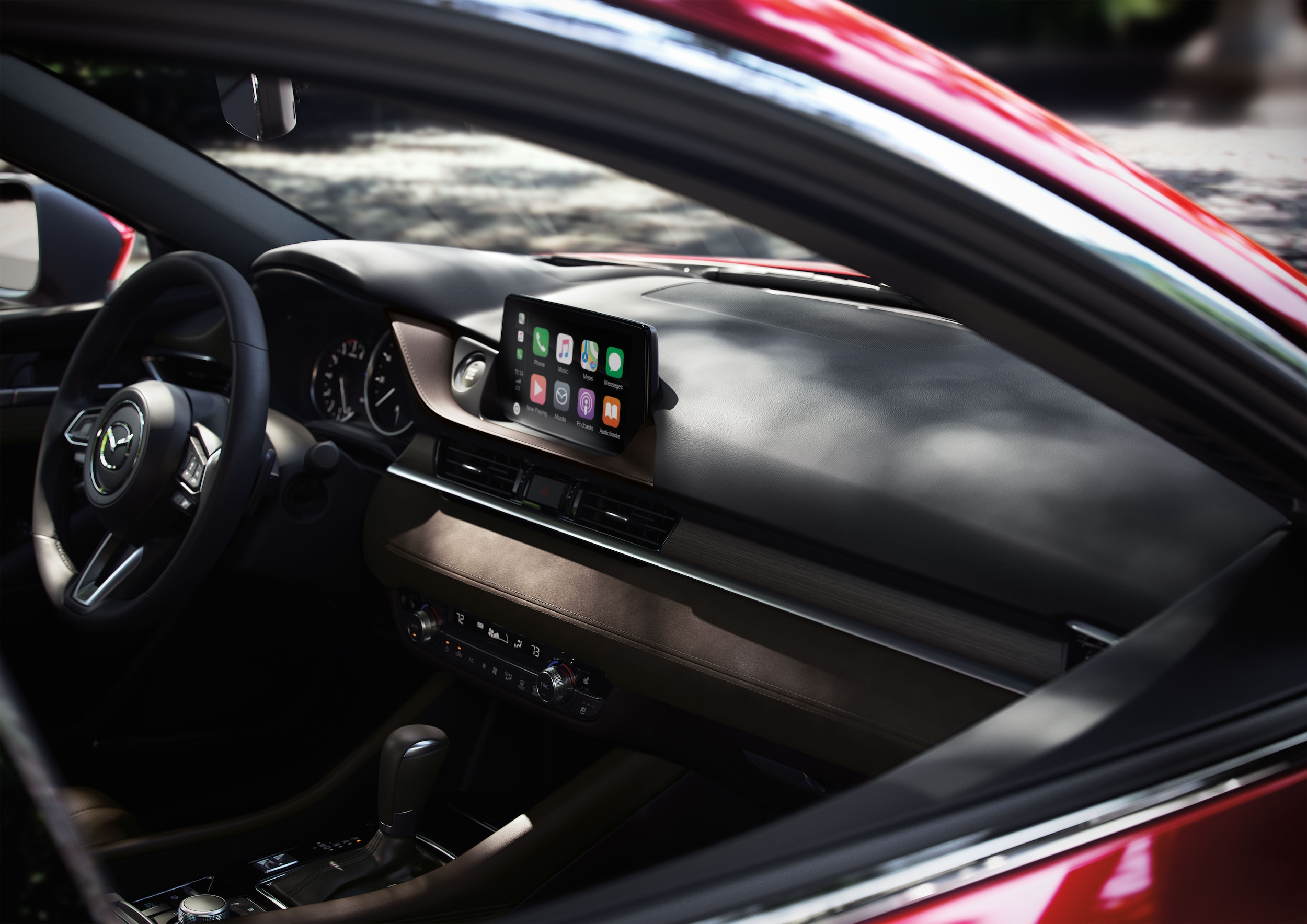 So you've purchased a new Mazda or upgraded your existing Mazda to Apple CarPlay™ and are looking for set up instructions to begin experiencing the amazing benefits of Apple CarPlay™. Look no further, as Walker's Renton Mazda has everything you need to know about setting up Apple CarPlay™ in your new Mazda.
Available on select models, Apple CarPlay™ seamlessly integrates your iPhone® with your vehicle's MAZDA CONNECT™ display, allowing you to access useful features and apps while staying focused on the road ahead. Apple CarPlay™ is a smarter, safer way to use your iPhone in your Mazda. Apple CarPlay™ takes the things you want to do with your iPhone while driving and puts them right on your Mazda's built-in display. You can get directions, make calls, send and receive messages, and listen to music, all in a way that allows you to stay focused on the road. Just connect your iPhone and go. Apple CarPlay™ features Siri voice control and is specially designed for driving scenarios. Apple CarPlay™ also works with your Mazda's controls — knobs, buttons and touchscreen.
Getting Started
| | |
| --- | --- |
| Connect an Apple Lightning to USB cable to your iPhone and the USB port. MAZDA CONNECT™ will detect your iPhone. If you're a first time user, follow the on-screen prompts to enable Apple CarPlay™. If you're a first-time user, tap "Allow" on the pop-up notification displayed on your iPhone. | |
This will allow your vehicle to access Apple CarPlay™ content on your iPhone without requiring you to unlock your iPhone first.
Accessing Apple CarPlay™
Once connected, the easiest way to quickly access Apple CarPlay™ is to press and hold the Home button on the Commander control.
| | |
| --- | --- |
| | You can also tilt the Commander knob forward to highlight the Apple CarPlay icon in the upper left-hand corner of the MAZDA CONNECT™ home screen. Press down on the knob to select the icon. Or, on the MAZDA CONNECT™ home screen, rotate the Commander knob to select "Applications," then select "Apple CarPlay" |
Using the Home Screen
Apple CarPlay™ features a user interface that is similar to the home screen on your iPhone. This familiar design allows intuitive access to phone, music, maps, messages and more.
| | |
| --- | --- |
| Much like your iPhone's home screen, you can also rearrange and customize the apps displayed on the Apple CarPlay™ home screen. On your iPhone, open Settings, then tap General. In General settings, tap Apple CarPlay™. Then, tap Mazda. Use the Apple CarPlay™ home screen displayed on your iPhone to rearrange or hide apps. | |
Using the Commander Control
Press and hold the Home button to toggle between Apple CarPlay™ and MAZDA CONNECT™ screens. Press the Home button to quickly return to the Apple CarPlay™ home screen from inside Apple CarPlay™ apps.
Press the NAV button to quickly access the Apple Maps screen.

When listening to music via an Apple CarPlay™ app, press the Entertainment button to quickly access the Now Playing screen.
Using Voice Commands and Siri
Siri replaces the MAZDA CONNECT™ voice recognition system when a compatible iPhone is connected to the smartphone-enabled USB port. Siri can be used to access many of your iPhone's functions while driving.
Press the "Talk" button on the steering wheel to activate Siri. Then, say your command.

Or, while on any Apple CarPlay™ screen, rotate the Commander knob to highlight the white Home button. Then, press and hold the knob to activate Siri.
Apple CarPlay™ Features:
Maps: Let your iPhone show you the way in your Mazda. The power and simplicity of Apple Maps is available on your dashboard. Apple CarPlay™ can predict where you're going using addresses from your email, text messages, contacts, and calendars. You can search along your route for nearby gas stations, restaurants, coffee shops, and more. Or just use your voice: "Siri, where's the closest gas station?" And Apple CarPlay™ doesn't just guide you — it helps get you there safely by advising which lane to be in to make a turn and showing the speed limit.
Phone Calls:
With Apple CarPlay™ in your Mazda you can make calls, return missed calls and listen to your voicemail. Siri can help you do all of these things, all you have to do is ask.
Messages: Reading and writing messages in your Mazda is possible with Apple CarPlay™ in your Mazda. Siri can read, reply and send text messages for you, so you never have to look at your iPhone while driving.
Music: Access all your content from iTunes, your Apple Music and other audio apps using your Mazda's Apple CarPlay™. Search by artist, album or song. You can even see what is playing and what is playing next.
Apps: Apple CarPlay™ supports many apps you might already have installed on your iPhone. Apps like, podcasts, Audiobooks, iHeartRadio, WhatsApp, Spotify, Stitcher, Audible, Pandora, Amazon Music, and many other apps are fully supported via Apple CarPlay™ in your Mazda.
Navigation Apps:
Apple CarPlay™ supports other navigation apps like Google Maps and Waze so you have multiple navigation options in your Mazda.
Walker's Renton Mazda has an expansive inventory of new Mazda vehicles with Apple CarPlay including the
Mazda CX-5, Mazda CX-9, Mazda CX-3, Mazda3, Mazda6, Mazda Miata, Mazda Miata RF,
located at 720 Rainier Ave S in Renton. Just minutes from Auburn, Kent, Seattle, Tacoma and Bellevue, we are one of the most convenient Mazda dealerships near you. No matter what your question is about Apple CarPlay in your Mazda, we can help you.